The Wilton Tennis Club is a lively and friendly club situated south of Wimbledon town centre. It thrives on a healthy mix of social and competitive tennis, played throughout the year, and caters for a variety of memberships from full annual membership through to the junior level.
Sincere congratulations to Jack and Darius for playing for 26 hours and 385 seconds. A truly epic achievement. Many thanks also to everybody who contributed in a huge variety of ways towards a fantastic weekend at Wilton.
I'm pleased to say that I have just submitted £1267.39 which represented the cash raised during the course of the weekend. In total this means that £3493.39 has been donated to Sport Relief.
Thanks to everyone that donated and Well done Wilton!
If you'd like to see who played and when - click here
Jack and Darius enjoy a well deserved beer after a full 26hours 365 seconds of tennis!
<further photos to follow>
Download the new Wilton App for iphone, ipad and android! Stay up to date with all the latest Wilton new, contact Jack, Terry all in one handy location.
Click here to get it for iphone/ipad at the iTunes Store.
Click here to get it for Android at the Google Play Store.
Day 1 – Saturday 15th February 2014
For the fourth time the tournament kicked off with a full day of matches in the 43 player Men's singles draw.
Matches began accompanied by some crazy wind but it kept the showers at bay although there was one half hour rain delay.
A number of Wilton winners in main draw – John Wiltshire, Tomasz Zbikowski, Chris Drew, Alex Kaminski and John Tippett-Cooper and Wilton seeds James Allen, Ed Boyce and 2011-12 champion Oliver Schuett.
As the second round got underway there was a spirited and energetic performance in the evening by from John Tippett-Cooper against the No.1 seed Peter Molloy. Alex Kaminski narrowly fell to the 7th seed Mohamed Morsi who was at the beginning of a big week.
Meanwhile Wilton's James Reed zoomed into round three courtesy of two withdrawals. Would anyone be brave enough to take on Reed?!
Day 2 – Sunday 16th February
A beautiful sunny day brought with it a very frosty start which delayed the start of the Men's third round matches.
When play did get away Wilton seeds Oliver Schuett and James Allen booked their quarter final places but 9th seed Ed Boyce and Tomasz Zbikowski bid farewell.
The evening saw the much anticipated first appearance of James Reed but, despite being resplendent in green, James fell to 12th seed Omar Daud who was the 2013 18&U and Men's consolation winner.
In the afternoon Wilton had welcomed 48 8&U players who played a total of 106 Mini Red matches across 9 courts.
Wilton player Callum Brown came put in a great performance to come 3rd in the Boy's event which was won by Alexandre Gruffat who defeated Jude Newman 10-8 in the final.
The Girl's winner was Kayal Parameswaran who overcame Ines Wiggin 10-6 in the final.
Head Coach Jack Hankey did a great job of organising the many players and the team of 9 scorers (one positioned on each court) including club members Karen Dervish, James Reed, Roger Tagholm and Wilton Parent Gail Russell all did a wonderful job.
In the evening the men's consolation draw got underway with some entertaining matches. After the 8&U event Jack was back on court to score a huge comeback win with a victory from 6-0 4-1 down in the second round.
Day 3 – Monday 17th February
Day 3 saw kick off for the 12&U, 14&U and 16&U age groups and the first day of the use of 6 courts at Westside Tennis Club under the watchful eye of our assistant Referee Sarah.
Up at Westside Wilton player Zain Baig had a decisive win in the first round of the Boy's 10&U event before falling to the No.3 seed Riley Clark. While Wilton's Natalie Allport upset 7th seed Rosanna Brown in the first round of the Girls 12&U event.
There was drama with a number of people getting lost, updates on a race from the airport for one player and some detective work in the tournament office to work out the identity of a mystery voicemail!
The Boy's 16&U event saw plenty of net play with a number of players bringing their all court game before in the evening Wilton member Sam Cleary was upset in the second round of the Men's consolation event.
Day 4 – Tuesday 18th February
Early on day 4 Wilton player Mariyah Ahmad won a thrilling first round match 12-10 in the deciding match tie-break before later falling to the top seed Teta Dieudonne.
There was some lovely sportsmanship in some of the Girl's singles with players showing some great respect for their opponents and a refreshing friendly sprit after matches.
The first finalists of the week were decided with the top 2 seeds Katie Morris and Sarah Jackson setting up a meeting in the Girls 18&U final.
The Men's singles finals took to the court with the top 2 seeds Peter Molly and Wilton's own Oliver Schuett remaining on collision course after decisive quarter final wins.
Wilton member and 6th seed James Allen was edged out in the most exciting quarter final.
Day 5 – Wednesday 19th February
The 10&U Mini Green events began on Day 5 with the round robin stages both at Wilton and up at Westside.
Wilton player Katie Russell was in action but found herself in a tough group with both eventual finalists.
Finalists were decided in the 16&U events with victories for Katie Morris and Teta Dieudonne in the Girl's and Srdan Pejic and Steven Zahui in the Boy's.
Wilton coach Jack Hankey won through to the final of the Men's consolation event with a 6-4, 6-2 victory over
As always honorary Wilton member Molly the Cat was a consistent and welcome presence during the week often taking her seat in the front row of the viewing gallery.
Day 6 – Thursday 20th February
There was no play scheduled before 11.15am due to a wet start to the day on Day 6 which saw the last day of play at Westside.
Winners were crowned at the end of hotly contested 10&U competition. The Girl's champion was Leah Gonzales-Edwards (below right) who got past Chloe To (below left) 4-1, 4-0.
The Boy's winner was Jamie Forrest (below left) who saw off Joshua Taylor (below right) 4-2, 4-0.
Finalists were decided in the 14&U events with Maximillian Gottschalk and Srdan Pejic winning the in the Boys semi-finals while Teta Dieudonne and Sofia Mashanovich setup a meeting in the Girls final.
Rain interrupted play in the evening with the Men's singles semi-finals on court. Top seed Peter Molloy ended the run of unseeded Callum Rusyniak 7-6(2), 6-0 while in a big upset two-time champion Oliver Schuett was beaten 2-6, 7-6(6), 10-4 by No.7 seed Mohamed Morsi.
The Men's doubles got underway with Wilton member John Wiltshire flaunting tournament regulations by wearing a chunky knit but he and James Reed fell to a strong performance from Peter Dowdeswell and Tommy Moody.
The final match of the evening saw Wilton Head Coach Jack Hankey take the victory in the Men's consolation event with a 6-4, 6-2 win over Marc Payling from Ealing.
Day 7 – Friday 21st February
The penultimate day of action saw the tournament move back to one venue with all remaining matches taking place at Wilton.
First on the schedule were the semi-finals of both 12&U events. Kofi Winney and Jools Freeman battled through three set thrillers to reach the Boys final.
The Girls semi-finals saw victories for Emma Stewart and Isabella Tarrant who edged out Abigail Gundogan 11-9 in a match tie-break.
The courts were then full of doubles action after increased entries in 2014. Abigail Ware and Freya Mcewan won the 16&U Girls doubles while Rosanna Brown and Isabelle Davies came out on top of the 12&U Girls doubles round robin.
The top 2 seeded pairs qualified for the final of the 16&U doubles with the teams of Jake Southwick and Sam Judd and Alfie Heiberg and Viktor Naydenov qualifying from their groups.
Defending champions Ashley Balm and Tom Coombe reached the final of the Men's doubles by coming from a set down to defeat Oliver Schuett and Jack Hankey 4-6, 6-2, 10-6 to top their group.
Day 8 – Saturday 22nd February, Finals Day
Finals day dawned at Wilton blessed with sunny skies as our team of 13 LTA Licensed Officials arrived to keep everything in order on court during the 11 finals.
5th seed Srdan Pejic was first to triumph with a 6-1, 6-0 defeat of top seed Maximilian Gottschalk in the Boys 14&U final. Top seed Teta Dieudonne took the Girls 14&U title with a 6-4, 6-3 win over unseeded Sofia Mashanovich.
Jools Freeman overcame Kofi Winney 6-4, 6-3 to lift the Boys 12&U trophy while Isabella Tarrant staged a comeback to edge out Emma Stewart 5-7, 6-2, 10-7 in the Girls 12&U final.
A thrilling Men's singles final saw 7th seed Mohamed Morsi battle back from a set and 2-5 down upset No.1 seed Peter Molloy in an epic encounter 4-6, 7-5, 7-5.
Tom Dixon won a topsy turvy 18&U Boys final 6-0, 3-6, 10-7 over Daniel Engley.
Both 14&U champions were back on court in the 16&U finals but were denied double victory; Katie Morris defeat Teta Dieudonne 7-6(4), 6-0 while Steven Zahui came from a set down to beat Srdan Pejic 4-6, 6-4, 10-2.
Katie Morris was victorious again in the Girls 18&U final with a 6-2, 6-0 win against Sarah Jackson.
Play finished with two hard fought doubles finals. Wilton players Ashley Balm and Tom Coombe battled to retain their Men's doubles title with a hard fought 7-6(5), 6-7(4), 6-2 win over Peter Dowdeswell and Tommy Moody.
The final match of the tournament saw Alfie Heiberg and Viktor Naydenov edge out Jake Southwick and Sam Judd 7-6(2), 2-6, 10-7 in the 16&U Boys doubles final.
The Arek Szrajbman trophy for the best performance by a Merton player was awarded to Bethany Reeves from Raynes Park who displayed wonderful sportsmanship to her opponent in the 14&U event.
2014 WILTON OPEN HONOUR ROLL
12&U Girls winner - Isabella Tarrant
12&U Boys winner - Jools Freeman
14&U Girls winner - Teta Dieudonne
14&U Boys winner - Srdan Pejic
16&U Girls winner - Katie Morris
16&U Boys winner - Steven Zahui
18&U Girls winner - Katie Morris
18&U Boys winner - Tom Dixon
Men's singles winner - Mohamed Morsi
12&U Girls doubles winners - Rosanna Brown & Isabelle Davies
16&U Girls doubles winners - Freya Mcewan & Abigail Ware
16&U Boys doubles winners - Alfie Heiberg & Viktor Naydenov
Men's doubles winners - Ashley Balm & Tom Coombe
Arek Szrajbman Trophy - Bethany Reeves
Many thanks go to Tournament Committee members Lynn, Karen and James, our catering team of Sally Burroughs, Megan and Josie Schiller, Assistant Referee Sarah, Head Coach Jack and all of our 8&U scorers.
Sincere appreciation importantly goes to our Club sponsor's Prince, Richard Jones and The Tennis Gallery, The Vernon Ely Charitable Trust and Tennis Surrey.

Chris Drew
Wilton Open Tournament Organiser
Dear Members

As many of you will know we had a very high standard of applicants for the position of Head Coach. Many thanks to everyone who helped with the interview process.

After the second set of interviews we have offered the role to Jack Hankey who, I'm pleased to say, has accepted. Jack will take over from Kim on 1st September, but we hope that he will be at Wilton during parts of August as he prepares to start working with us.

Jack is a Level 3 coach who is currently working for Tennis England having previously worked at the Bramhall Lane club in Cheshire.
Regards
Terry
Do you want stronger, more toned muscles? A flatter stomach and trimmer waist? A better posture? More energy? Improved balance and coordination? Less back pain?
Rachel's Pilates
classes will start from the 7
th
September at Wilton Tennis Club on Friday mornings at 9.30am and last an hour. Courses follow school term times and run in half termly blocks bookable in advance. The first course of 8 classes will run until Oct 26
th
2012, there will then be a one week break for half term before the next course starts.
A block of 8 classes costs £64 but Rachel is offering a 10% discount to Wilton Tennis Club members.
It is possible to drop in to a class and not book the course
but the space is not guaranteed.
If, after your first class, you decide not to continue, you are entitled to a full refund for the remaining lessons of the course (a drop-in price of £12 for the class taken would apply).
For more information contact Rachel on 07583 171 726 or email her at
This email address is being protected from spambots. You need JavaScript enabled to view it.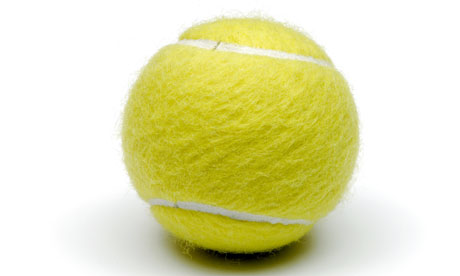 As some of you will know we now collect used balls to be recycled! So if you have any to spare please bring them along to the big yellow bin by the office.

Thanks, Terry